Ski School
Improve yourself while having fun!
Qualified instructors in a safe environment, what more could you ask for?
Whether it's your introduction to snow sports or you want to perfect your technique, we have an instructor for you! With one of the best snow schools in Quebec, you will find an instructor that will meet your expectations.
130 certified instructors
Professional ski and snowboard instructors
Lessons for all ages and levels
Private, semi-private and group lessons
Programs for children of all ages and levels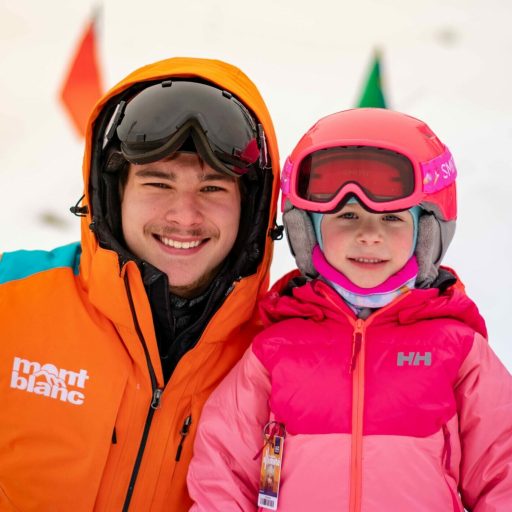 Ski School
Frequently Asked Questions
If the FAQ below does not answer your question, you can reach us in one of the following ways:
Write to us by email at info@skimontblanc.com and we will get back to you as soon as possible.
Call us at 819-688-2444 ext.2, if you are not able to reach one of our agents, please leave us a detailed message and your email address, and we will contact you as soon as possible.
Where is the meeting point for private lessons?
The meeting point is at the clocktower, opposite the four-seater lifts on the Mont Blanc side.
Where do I go after the lesson?
You will meet your child at the clocktower following his/her lesson.
How long does the lesson last?
Lessons normally last between 60 and 120 minutes depending on the lesson booked.
Our Snow School Weekend Programs can be booked and purchased online or by phone. Private lessons are sold by phone or in person only. For all other questions or to make a reservation, you can reach the Snow School at 819-688-2444 ext.2
When do weekend programs start?
The weekend of January 14th, 2023.
What is the deadline to reserve a spot in a weekend program?
To reserve your spot in the weekend program, purchases must be made before November 1st, 2022, however registration remains open until January 14th, 2023.
We always take the time to match you or your child's needs, personality, and skill level with an instructor.
How to become an instructor or assistant instructor?
Send a short description of yourself and your interest in snow sports, the job you are interested in, and a CV to the following address : superviseurs@skimontblanc.com
Is the lift ticket included in the price of the lesson?
We offer special all-inclusive packages, however the lift ticket and equipment rental are sold separately and are not included in the price of a private or group lesson.
Can I stay and watch my child's lesson?
Mont Blanc has a large area at the bottom of the slopes, so it's always possible to keep an eye on your child from our cafeteria. We recommend leaving your child alone with the instructor. Some children make more progress when Mom and Dad are a little further away.
Are our instructors good with children?
Mont Blanc has the reputation of being a very excellent family-oriented mountain and has earned this reputation. In addition to having instructors who are certified in both their skiing and teaching techniques, we place a great deal of emphasis on safety, learning and having fun in order to make the experience of a Mont Blanc lesson magical.
All of our lessons are weather-appropriate. If your child is cold, we will do everything in our power to keep them safe and comfortable.