PRICES IN EFFECT FOR THE 2022-23 SEASON
Lift Ticket Pricing
Bunny hill tickets are on sale at the ticket counter and service center only.
Tickets purchased online have no set dates, so you are free to purchase your tickets and then come to the mountain on the day of your choice. They will be valid until the end of the season in April 2023. 
Card printing fee
A 4,35$+tax fee is required for the printing of a Pass Plus+Please note the cards must be kept and reloaded online using the WTP number on the front of the card, located below the name. A fee will applied for the replacement of a card.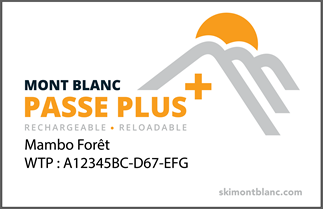 Gift Cards
Please note that there are no gift cards available this year. Cards purchased during previous winter seasons will be accepted at our sales counters.
Conditions: All prices in Canadian dollars. Prices do not include taxes. Proof of age must be provided upon request. Family: Subscription for parents and children 25 years old and under residing at the same address. Proof of age and common residence must be provided. Minimum 2 persons - one of whom must be an adult. Student: 18 to 25 years old, proof of full-time studies required. Taxes not included. Reference age is December 15, 2022. Mont Blanc reserves the right to change rates without notice. The signatory of this season pass/daily ticket contract acknowledges that Mont Blanc has the right, at any time, to subsequently terminate any season pass or daily ticket in the event that the signatory fails to comply with the Mountain Code of Conduct, or for any other determining cause, notably the incompatibility of the client or his/her conduct with the maintenance of a serene and safe environment for Mont Blanc users and staff. Such termination shall be effective at 11:59 p.m. on the day written notice to that effect is received by the signatory. In the event that Mont Blanc avails itself of its right of termination, Mont Blanc may decide to refund a portion or all of the price of the subscription/ticket actually paid by the signatory of this subscription contract.