You want to be part of a friendly and dynamic team? Do you dream of a stimulating job with a rewarding work environment?
Well look no further, the Mont Blanc Snow School family is for you!
You'll work alongside other skiers and snowboarders who are just as passionate as you are! You will be able to participate in our many team-building activities and receive ski/snow training from experienced instructors who will help you develop your skiing/snowboarding and teaching skills. You will benefit from a supportive management team ready to assist you and facilitate your inclusion in the team.
Come and join our great family of instructors, filled with passionate people who want to share their love of snow sports!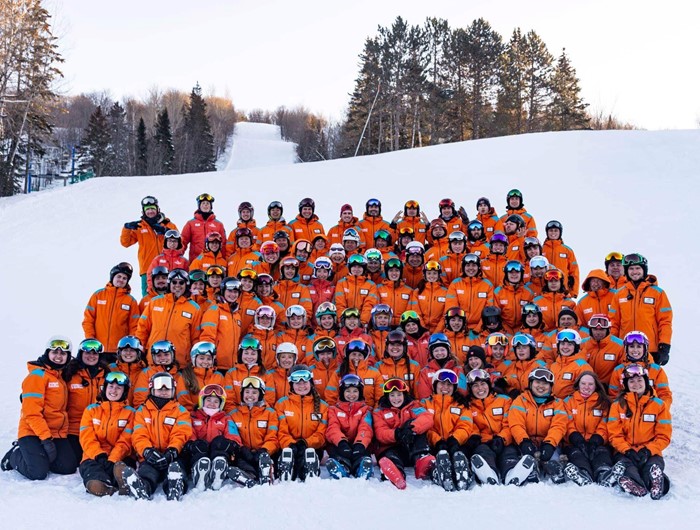 Being an instructor
Being an assistant instructor
Being an instructor
To be part of our team you must:
Be 14 years of age or older (before the start of your Level 1 ski training) OR be 15 years of age or older (before the start of your Level 1 snowboard training)
Have completed your CSIA Level 1 training (Canadian Ski Instructors' Alliance) or your CASI Level 1 training (Canadian Snowboard Instructors Alliance) OR be registered in the training at the beginning of the season
Be dynamic and creative
Enjoy working with children
Once you are an instructor, you will benefit from:
A season pass in accordance with the instructor service offered
A Snow School coat
Discounts in several departments of Mont Blanc
Access to a reserved staff room 
Free ski/snow improvement training
If you are interested in being part of our team, fill out the management form and send us your resume.
If you have any questions about the position and its benefits, you can contact our management team at superviseurs@skimontblanc.com
Being an assistant instructor